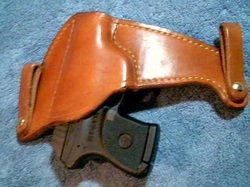 Today, many people make a poor choice to do as little as possible to obtain a "concealed carry permit". I hear all sense of argument about how it is a person's constitutional right to "carry". I choose to NOT get involved into any form of political based argument over this. Rights are one thing, making a wise choice is entirely different. I choose to consider training to be the only wise choice simply because the education, skills, and mindset so vital to one's survival in any form of violent attack are a basic, fundamental necessity. If you are "not that serious" about training and being prepared WHY did you choose to have a gun in the first place?! Some also seem to believe that they won't face any really bad criminals. How can you segregate who you may encounter?


Few if any of us were raised by parents that taught us in our early years that one day we would have to consider learning to defend ourselves. Many folks seem a bit perplexed that for the first time in their lives they are faced with "issues" concerning defensive skills. Preparing to survive a violent encounter was not a basic life skill that most of us were taught. Today, due to the ever increasing crime rates and greater chances of becoming a victim, the need for basic defensive skills has evolved into a necessity.

We have homeowners insurance and health insurance, car insurance, disability insurance, and so on. WHY? Just in case we need those to help us in our time of need. During a conversation with a close friend one day he suggested that people would be wise to consider training as a form of insurance, and even plan for such in their budgets. A wise policy for sure! Yet for some strange reason most folks still resist establishing any form of defensive insurance. Education and training followed by practice IS that defensive insurance. How is your policy looking? Do you even have a policy? Lastly, are you the least bit interested in establishing a policy?



There are many too who soon after their initial contact with guns & permit resort to merely going to a range and shooting. Don't take me wrong, target shooting is loads of fun. But often people are misled by well meaning but misinformed friends into believing "you don't need any training, you just come along with us and shoot at a range". I have had far too many students attempt this approach only to later discover they developed bad & useless habits. Such habits often require more time to break than it will to learn new habits. Whether serious or just informal plinking target shooting is a great hobby. But target shooting and defensive training & practice have little in common. A word to the wise, just because you were at your local range and your gun went bang does not mean you were learning refining or practicing any skills.

YOUR APPROACH:

Once you properly learn some basic techniques, then it is best to practice and refine those same techniques until they evolve into skills. Stay with it while the techniques and skills are fresh in your mind. Often people wait too long and become distracted by other areas of life. When they attempt to come back to shooting, they have forgotten too much. The techniques have become lost and corrupted, and now any attempt to practice will be futile .

Once you feel comfortable that you are solid in some skills, then train and learn more. Again, practice and refine. Keep up with this method until you begin to feel very confident and you can perform some skills on demand. Then and only then should you begin to attempt more advanced styles of training. Even the most seasoned and advanced shooters will tell you they constantly practice and maintain their skills. Shooting tends to be a perishable skill, and if we don't keep it fresh in our minds and fresh on our fingertips, it withers quickly.

We must be willing to be committed to the cause here and accept the responsibility that goes along with defensive use of firearms. Sun Tzu said it best many years ago, B.C. when he wrote:

"The Art of War teaches us to rely not upon the calculated likelihood of the enemy's coming or not, but on our own readiness to receive him... no matter what he does."




---